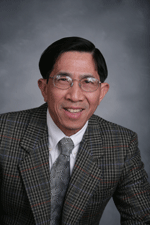 Chap T. Le, Ph.D.

---
Dr. Le teaches "PubH 7405: Regression" and "PubH 7470: Statistics for Translational and Clinical Research". His collaborations have focused on the analyses of survival and categorical data; currently, major concentrations are in the areas of cancers and tobacco research. His own research interests are data-driven and include epidemiological methods, cross-over designs, survival analysis, ordered alternatives, ROC curves, and methods for the analysis of In Vitro experiments - especially Chemo-combination therapy. Dr. Le received the Leonard M. Schuman Excellence in Teaching award presented by the University of Minnesota School of Public Health (1988) and the Award for Outstanding Contributions to Post-Baccalaureate, Graduate and Professional Education by the University of Minnesota (2001; designated throughout his career at the University of Minnesota as "Distinguished Teaching Professor of Biostatistics"). He is the author of several text books [Fundamentals of Biostatistical Inference(1992), Health and Numbers: Basic Biostatistical Methods(with JB Boen, 1995), Applied Survival Analysis (1997), Applied Categorical Data Analysis (1998), Health and Numbers: A Problems-based Introduction to Biostatistics (2001), Introductory Biostatistics (2003), Statistics Quick Reference Guide for Medical Affairs (2007), Health and Numbers: Introductory Biostatistics with Microsoft Excel (2010), and Applied Categorical Data Analysis and Translational Research (2010), Introductory Biostatistics (with Lynn Eberly, 2016)] and research papers in Biometrics, Statistics in Medicine, Journal of Biopharmaceutical Statistics, and other journals in biomedical sciences. Dr. Le was born in Vietnam, is an Engineering graduate of California State University at Fresno, and received his Ph.D. in Statistics from the University of New Mexico.
---
Selected Recent Publications:
Le C. T. and P. M. Grambsch. Design and Analysis of In Vitro Experiments for Combination Chemotherapy. Journal of Biopharmaceutical Statistics 15: 179--186, 2005.

Le C. T. A Solution to the most basic Optimization Problem associated with an ROC Curve. Statistical Methods in Medical Research : 15: 571-584, 2006.

DeFor T. E., Majhail N. S., Weisdoff D. J., Brunstein C. G., McAlvoy S., Arora M., and C. T. Le. A modified comorbidity index for hematopoietic cell transplantation. Bone Marrow Transplantation 45: 933-938, 2010.

Liao W., Luo X., Le C. T., Chu H., Epstein L. H., Yu J., Ahluwalia J. S., Thomas J. Analysis of cigarette purchase task instrument data with a left-censored mixed effects model. Experimental and Clinical Psychopharmacology 21(2): 124-132, 2013.

Le C. T. Experimental designs for the assessment of drug combination synergism. Austin Biometrics and Biostatistics 1(2): 6, 2014.

Donny E. C., Denlinger R. L., Tidey J. W. et al. Randomized trial of reduced-nicotine stadards for cigarettes. New England Journal of Medicine 373 (14): 1340-1349, 2015.

Yuan J. M., Stepanov I., Murphy S. E. et al. Clinical trial of 2-Phenethyl Isothiocyanate as an inhibitor of metabolic activation of a tobacco-specific lung carcinogen in cigarette smokers. Cancer Prevention Research 9(5): 396-406, 2016.

Brunstein C. G., Miller J. S., McKenna D. H. et al. Umbilical cord blodd-derived T regulatory cells to prevent GVHD: Kinetics, toxicity profile, and clinical effect. Blood 127 (8): 1044-1051, 2016.

Wagner J. E., Brunstein C. G., Boitano et al. Phase I/II trial of StemRegenin-1 expanded umbilical cord blood hematopoietic stem cells supports testing as a stand-alone graft. Stem Cell 18 (1): 144-155, 2016.



---


---
The views and opinions expressed in these pages are strictly those of the author and have not been approved by the University of Minnesota.