Me, briefly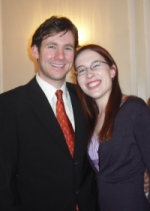 Julian and April Wolfson
I am an Assistant Professor in the Division of Biostatistics at the University of Minnesota School of Public Health. I obtained my Ph.D. in 2009 from the Department of Biostatistics at the University of Washington. My dissertation work was supervised by Prof. Peter Gilbert at the Vaccine and Infectious Disease Institute at the Fred Hutchinson Cancer Research Center. I graduated from McGill University with a B.Sc. Joint Honours in Mathematics and Computer Science in 2004.
Research Interests
My research interests include
Causal inference, particularly as applied to problems arising from randomized trials
Prediction/variable selection in high-dimensional models
Many of the problems that motivate my work come from HIV vaccine and treatment trials.
As an avid sports fan, I have also become interested in sports statistics.
Teaching
Fall 2011: PUBH 7430 - Statistical Methods for Correlated Data
Spring 2012: PUBH 6450 - Biostatistics I

Other stuff
I am proudly Canadian, and stubbornly continue to pronounce Z the correct way. I enjoy playing squash in my spare time, and am an active member of the University of Minnesota Squash Club.
Page last modified: July 07 2011 01:23:32.